Moduline renova | RRO 112E | 11x2/1GN Tray Static Regeneration Oven
Pictures are for illustrative purposes and final product may differ. Optional Accessories may be shown but not included. Heading and Description take precedence over image displayed.
A Reliable Ally
Retherm ensures the quality of results either with previously cooked or chilled food. The reheating process is fundamental to exalt appearance, consistency and flavour of food on the table.
Static regeneration oven. 11 x 2/1 GN capacity. 90 mm spacing between runners. Electronic control panel with 9 programmable settings, core temperature probe & internal runners. Stainless steel cabinet with coved internal corners. Suitable for regeneration on trays or plates. Complete with USB. 3 phase, 23kW power supply.
Rethermalisation/Regeneration Process
Appearance, consistency, flavour and aroma of the food on the table make a difference. When we are dealing with cooked and chilled food, these aspects depend on the quality of reheating, which is the decisive step before serving.
Moduline has developed a full range of regeneration ovens, suitable for any volume, space, and customer need (public canteens, hotels, caterers, banqueting, etc.) in which the sophisticated technology and design features ensure low power consumption, simplicity, full safety and easy cleaning. In the kitchen, problems of storage, hygiene and product availability are rapidly solved, thus safeguarding final quality and organoleptic properties of food. Ventilation, temperature and humidity within the oven cavity are calibrated and adjusted according to the product, for a final result above all expectations.
With its range including 25 models with three types of control, Moduline is able to offer the solution to every kind of need and demand of productivity.
A Versatile Tool
Low power consumption, temperature and humidity control, ventilation and more... These are only some of the functions that Retherm can offer to calibrate and adjust its performance to the product, for a final result above all expectations.
Range Features
Please note these features are range specific, refer to product name, specific product detail and spec sheet to confirm of below applies to this model
Temperature from +30°C to +160°C on GRE-RRO-RRT-RRFF-RRFT models.
Temperature from +0°C to +160°C on RRD - RRFC models.
The automatic reheating programs, divided into 4 categories of products are the perfect starting point for your experience with a Retherm oven (only E version).
Manual cooking setting and recipe registration, offer the traditional convenience to the Chef service (only D and E versions).
Section for favourite programs, daily life and your experience always at your fingertips (only E version).
Recipes always customizable and easy-to-browse (only E version).
USB port: software, HACCP data and recipes always at your fingertips and keeping up with the work evolution (optional only on D and E versions).
The reheating programs can be divided into different phases (9 on the E control version or 4 on the D control version), thus allowing high precision of food regeneration.
Self-diagnosis system of the proper operation of all electrical components (only D and E versions).
The steam condensation system ensures a healthy workplace.
Automatic stop of the fan motors when the door is open.
The door locking system prevents the risk of unintentional opening during the cooking cycle; door openings would interrupt delicate cycles and compromise the results (optional only on D and E version).
MultiLevel function: Retherm is able to manage different dishes with different Cooking times or temperatures, indicating you from time to time they are ready (only E version).
IdealWarm function: the intelligent temperature decrease in the cavity at the end of the cooking cycle allows perfect warm holding, avoiding the risk of overcooking the food (only D and E versions).
ClimaChef system is an electronic and automatic feature monitoring the climate in the cavity to get the best consistency and always tasty and crispy food in a safe and intelligent way (standard on D and E versions of GRE range).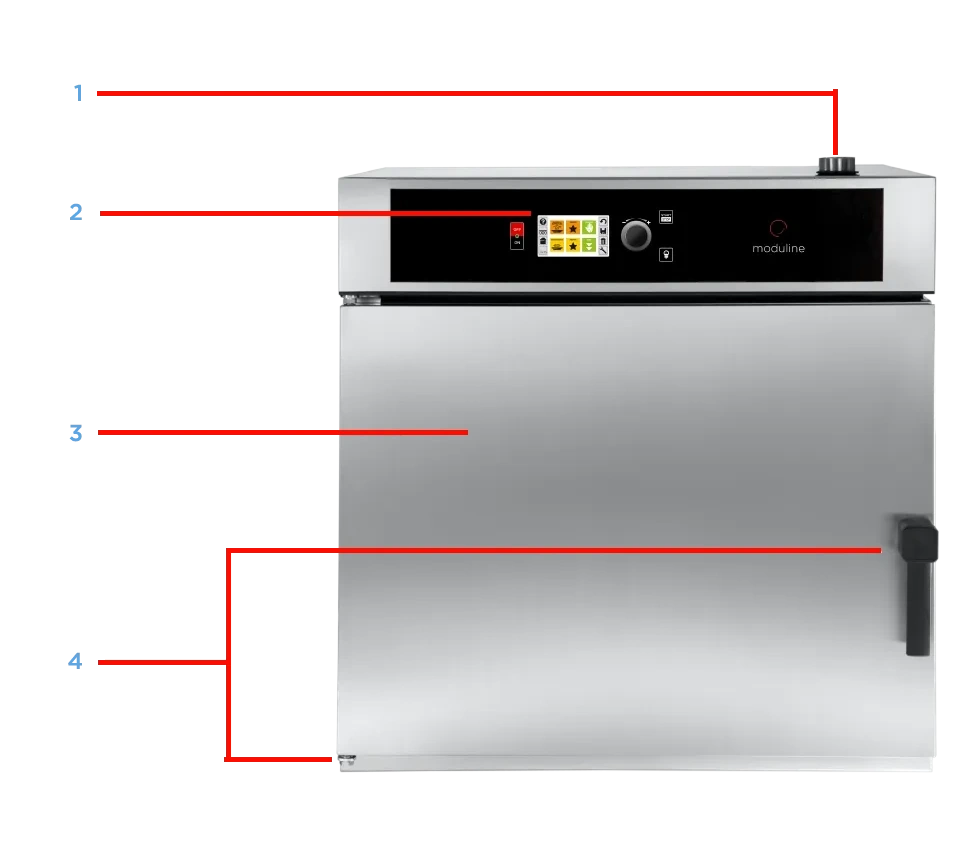 1. Humidifier
Designed to minimize the water consumption.
2. Electronic control
Extremely intuitive and easy to use even by less skilled staff.
3. Available power
Installed power is perfectly calibrated to the use.
4. Handle and adjustable hinges
Always perfect and hermetic closure.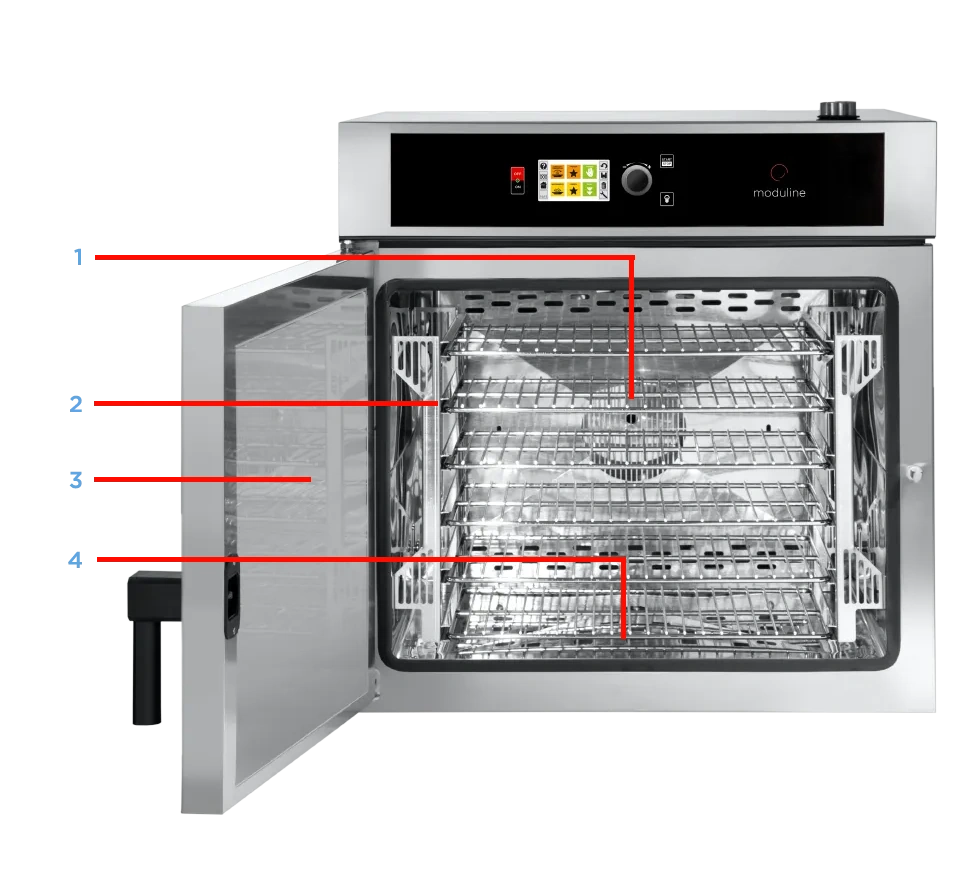 1. Periodic and automatic rotation reversal of the fan motors
Allows the perfect temperature uniformity in the cavity.
2. Tray rails
Easily removable and washable.
3. Door internal glass
Allows easy and daily cleaning.
4. Tight-sealed cavity
The rounded corners and the integrated drainage system make cleaning easier and safer.
E version Control Panel
1.ON/OFF switch.
2.Encoder knob to browse through the functions of the oven and set all cooking parameters.
3.START/STOP key.
4.Chamber light key.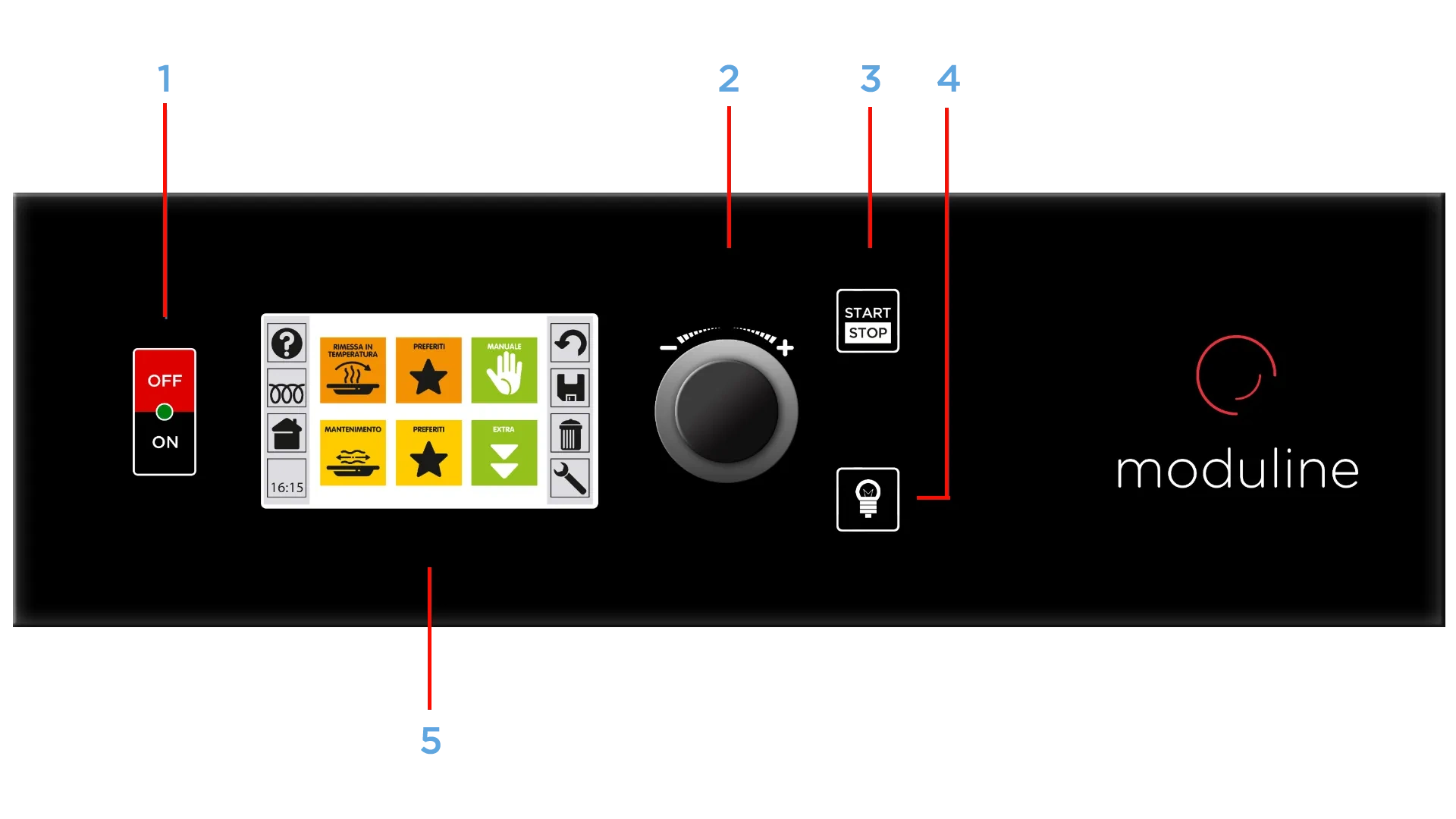 5.4.3" touch screen LCD:
Basic Characteristics
Temperature control from +30°C to +160°C.
Time control.
Automatic programs for reheating divided in 4 categories.
Favourite programs section.
Cooking Modes
Ability to manage up to 9 phases of reheating for each program.
Reheating with core-probe.
Special Modes
Climate control in the cavity with CLIMAchef system.
Special Features
ProTime.
PadLock.
MultiLevel.
CoreCheck.
Dimensions
Product Width
860
Product Depth
860
Product Height
1650
Weight (kg)
141
Manufacturer
Manufacturers Warranty
1 Year
Origin
Italy
Power
Fuel Type
Electric 3 phase
*Above manufacturer specifications are subject to change without notice. If particular features are required please
Contact us
to confirm
$12,640.00+gst

Price in reward points: 15050
---