Moduline renova | HCT 132E | 13x2/1GN Tray Mobile Refrigerated Cabinet
Pictures are for illustrative purposes and final product may differ. Optional Accessories may be shown but not included. Heading and Description take precedence over image displayed.
Cold Perfection
A cold holding cabinet is an essential tool in a professional kitchen. The Cold range by Moduline offers the best performance in food preserving, with the benefits of rationalization and energy saving.
Mobile refrigerated cabinet. 13 x 2/1 GN or 26 x 1/1 GN capacity. 48 plate capacity at 310mm diameter. 70 mm spacing between runners. Electronic control panel with digital temperature display. Temperature range from 0°C to +5°C. Complete with internal runners. Single phase, 0.65kW, 10 AMPS.
Mobile Refrigerated Cabinets
Whether raw or cooked, food should be stored in an optimal way until needed and consumed.
Moduline makes this possible thanks to a range of refrigerated upright cabinets on castors and drawers, which, thanks to highly technological solutions and effective design features, offer excellent performance, suitable for the most demanding professional catering business.
The perfect equipment insulation, its quietness and easiness to be transported make banqueting and deferred service operations easy to deal with, in complete safety and convenience. Furthermore, Cold range of products gives tangible benefits in terms of rationalization of processes, saving energy and preserves integrity and attractiveness of the dishes.
1. Door handle
Ergonomic and fully built-in.
2. Electronic temperature control
Extremely intuitive and with defrost program.
3. Available power
Installed power is perfectly calibrated to the use.
4. Plastic perimeter bumpers
Equipped with four castors of 125mm diameter, two of which with brake, and side handles to push and guide for a full mobility.
5. Condensation evaporation tray
No more leakage and accumulation of water on the floor.
1. Cooling system
Ventilated by an air evaporator.
2. Tray rails
Easily removable and to be cleaned in the dishwasher.
3. Tight-sealed cavity
The rounded corners and the integrated drain system make cleaning easier and safer.
4. Magnetic door seal
5. Cavity and Door insulation
Highly insulating materials ensure lower cold dispersion.
6. Compressor unit
Uses ecological R404A gas
E version Control Panel
1.Keys to increase/decrease or entering function menus.
2.FUNCTIONS key.
3.ON/OFF button.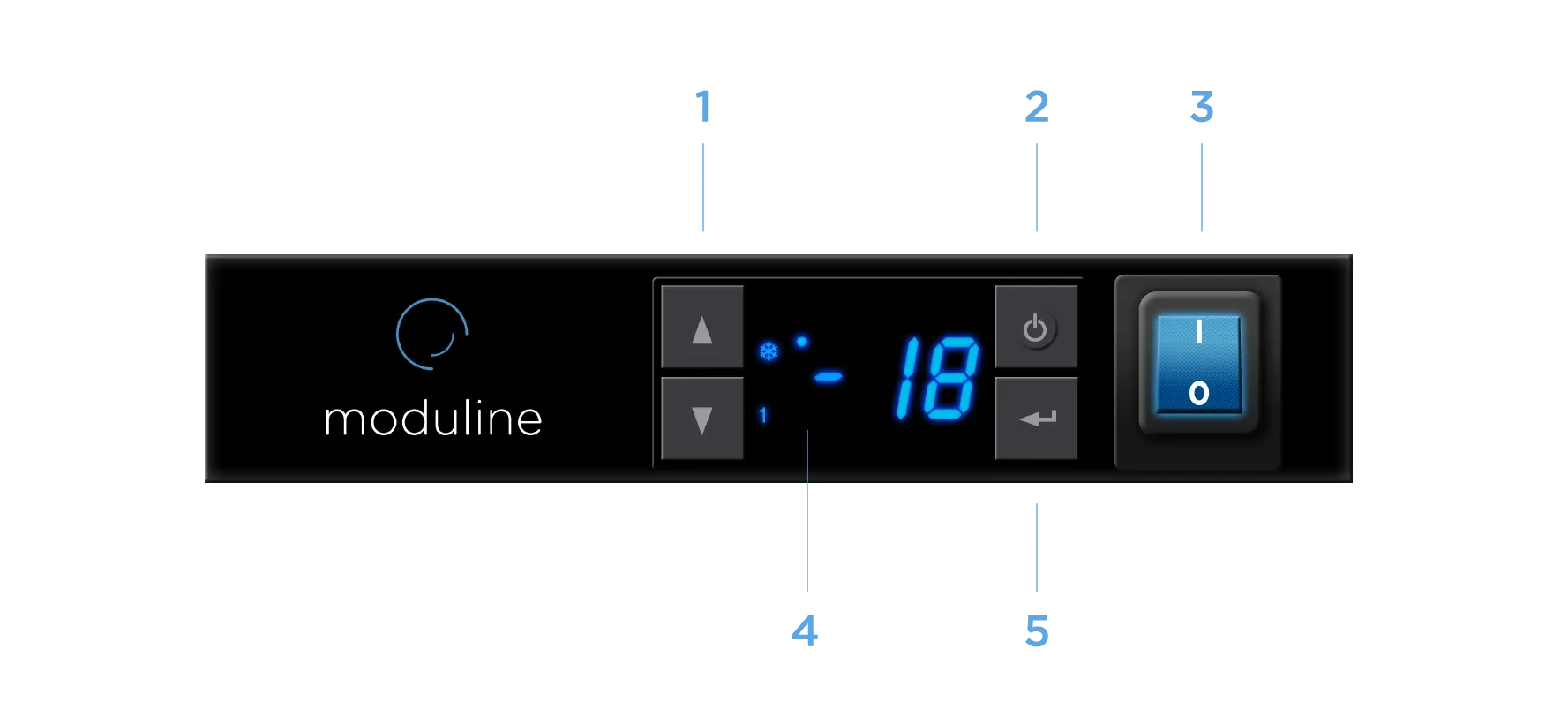 4.Digital Display.
5.ENTER Key.
Dimensions
Product Width
800
Product Depth
890
Product Height
1840
Weight (kg)
138
Manufacturer
Manufacturers Warranty
1 Year
Origin
Italy
Power
Fuel Type
Electric 1 phase
*Above manufacturer specifications are subject to change without notice. If particular features are required please
Contact us
to confirm
$9,023.00+gst

Price in reward points: 11780
---